Newsletter >July 2009 Vol. 1 Issue 3
Greetings!
We hope this newsletter finds you enjoying good heart health and we also hope that we have played an important role in getting you there. One of our primary goals is to provide you with quality products that, in turn, improve the quality of life that you enjoy.
Cardio Renew has proven to be "recession proof" during these difficult economic times. This is good news for us obviously, and we are grateful that this has been the case. However, we think that it is also an indicator that our EDTA Chelation Therapy is not just viewed as a discretionary expenditure, but rather a vital expense toward improving and maintaining your health; something that really merits the designation, "Priceless". The point is driven home even more so, considering that most health insurance plans will not cover the cost of our treatment.
We want to continue to contribute to your overall health and hope that the information that we provide in our newsletter, coupled with our Oral EDTA Liquid Chelation Therapy, will provide you with a comprehensive regimen for renewing, restoring and maintaining good heart health.
Wishing You Good Health and Vitality,
P.S. As always, we value your feedback, so please feel free to send any questions or comments to: newsletter@cardiorenew.com
-----------------------------------------------------------------------------------------------------------------------------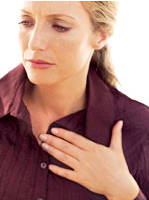 Heart Health and EDTA Chelation
ExamHealth published a story recently titled "Heart Disease Prevention Not A Major Concern For People". Here are a few excerpts. You can read the full article here >
In 2008, only a third of people in the US told Datamonitor that they pay a 'high' or 'very high' amount of attention to their heart health. Worryingly, a quarter (26.5%) admitted that they only pay a 'low' or 'very low' amount of attention to what is a critical issue both at home and abroad.
The World Health Organization estimated that 17.5 million people died from cardiovascular diseases in 2005 and that, if something is not done to reverse the trend, this figure will rise to 20.5 million by 2020. The signs are not positive, with Datamonitor predicting that more than 40% of children in the US will be overweight or obese by 2013.


Ensuring that our hearts are healthy in the future is a difficult task, and the signs are not all good. "It is critical that consumers do not believe that simply consuming more heart healthy products will solve all their problems. Achieving good heart health is about lifestyle as well as diet, and we are spending less time exercising," warns Whalley. He concludes: "there are positive signs that products are getting better for our hearts but, in difficult financial times, they need to do more to convince people that they are worth the money. What's more, people must start to take more of a long-term interest in their hearts before it is too late."
Chelation therapy is another way to improve and maintain your heart's health. EDTA oral chelation therapy can help to reduce the effects of plaque problems and increase your blood flow. Visit Cardio Renew to see how chelation therapy can make you feel better today!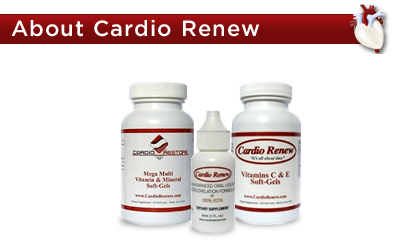 Cardio Renew Inc. is a family owned and operated company located in Minnesota. Cardio Renew was developed to offer you safe, effective and economical oral liquid EDTA chelation programs. Our #1 goal is to provide you quality products at an affordable price, while supplying the great customer service that you need and deserve.Here are a few items that we feel are important to the success of your oral chelation program:
Quality Product-We purchase our products in liquid form and have our formulas blended, bottled, labeled and tamper-evident sealed at a professional manufacturing facility. This ensures you receive consistent, high quality products that provide safe and effective chelation therapies.
Customer Service-Our goal is to answer e-mails, return phone calls and ship orders within 1 business day. Most times within a few hours or less.
Best Value-Because Cardio Renew is a family based business, we keep our overhead and operating costs at a minimum. We do not promote sales, discounts or specials. We offer the best price to everyone, all year.
No Multi-Level Marketing-We know that this not only raises the cost of products, but also takes away from the quality of customer service that you receive. We believe in helping our customers, not just making a sale.
Honesty-We will always be truthful with our customers. We don't believe in scare tactics or deceptive marketing practices. We are an honest company, that takes pride in selling quality products, at an affordable price.
We believe in our products and programs and sincerely care about our customers. We truly feel that Cardio Renew can improve your health and therefore the quality of your life.
What are Antioxidants?
Antioxidants are substances or nutrients in our foods which can prevent or slow the oxidative damage to our body.
Benefits of Antioxidants
When our body cells use oxygen, they naturally produce free radicals (by-products) which can cause damage. Antioxidants act as "free radical scavengers" and hence prevent and repair damage done by these free radicals. Health problems such as heart disease, macular degeneration, diabetes, cancer etc are all contributed by oxidative damage. Indeed, a recent study conducted by researchers from London found that 5 servings of fruits and vegetables reduce the risk of stroke by 25 percent. Antioxidants may also enhance immune defense and therefore lower the risk of cancer and infection.
Most Commonly Known Antioxidants:
Vitamin A and Carotenoids: Carrots, squash, broccoli, sweet potatoes, tomatoes, kale, collards, cantaloupe, peaches and apricots (bright-colored fruits and vegetables!)
Vitamin C:Citrus fruits like oranges and lime etc, green peppers, broccoli, green leafy vegetables, strawberries and tomatoes
Vitamin E: Nuts & seeds, whole grains, green leafy vegetables, vegetable oil and liver oil
Selenium:Fish & shellfish, red meat, grains, eggs, chicken and garlic
Other Common Antioxidants:Some common phytochemicals: Flavonoids / polyphenols soy, red wine, purple grapes or Concord grapes, pomegranate, cranberries, tea
Lycopene:Tomato and tomato products pink grapefruit watermelon
Lutein: dark green vegetables such as kale, broccoli, kiwi, brussels sprout and spinach
Lignan: flax seed, oatmeal barley, rye
Vitamin-like Antioxidants: Coenzyme Q10 (CoQ10) Glutathione
Antioxidant enzymes made by the body: superoxide dismutase (SOD), catalase glutathione, peroxidase